Crawfish Town, USA

We have new hours at the Fresh Market for the spring and summer! The new hours start 3/17/2017 and are as follows:
Sunday 9 am - 5pm
Monday - Thursday 9am - 7pm
Friday - Saturday 9am - 8pm

Register for our eClub

FIND OUT MORE

Our anticipated start date

For Boiled Crawfish is Monday, December 4th

Online Reservations Available

Make Plans To Dine With Us Today

RESERVATIONS

Menu & Specials

Appetizers, Dinners, Desserts & Beverages

READ MORE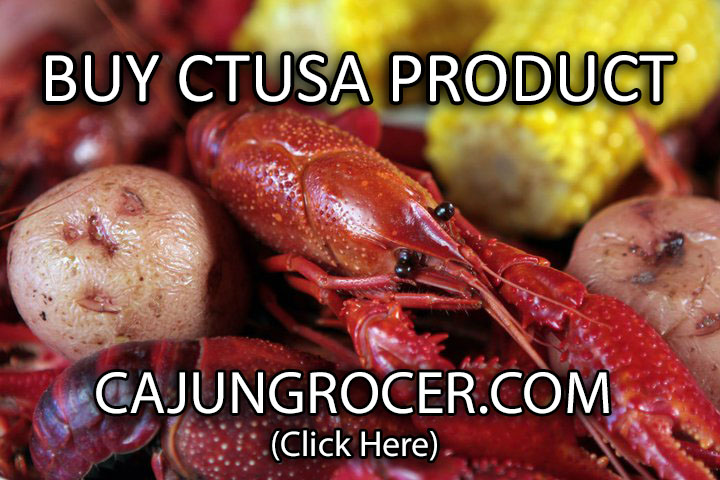 About Us
From one of the first Crawfish Town USA boiler cooks in 1986 to owner of Crawfish Town USA in 2005.
An interview with Johnny Hebert
I guess it was destiny. I grew up in the restaurant business. At age 12 I was washing dishes at Pat's Waterfront Restaurant in Henderson, Louisiana. At age 16 I was hired by Jerry Guidry, owner and founder of Crawfish Town USA. I was trained by the owner of Vernick's in Abbeville, Louisiana to become one of the first crawfish boilers when Crawfish Town USA opened in 1986. I enjoyed the work and the $3.65 an hour pay. That was big money back then. Life was good. At age 17 I was hired by Landry's Seafood in Henderson, Louisiana as a fry cook. At age 18 I was promoted to assistant manager. It probably helped that the owner of Landry's Seafood was my Uncle/Parrain Tony's next door neighbor.
I enjoyed managing the restaurant, but at age 21, I married my beautiful wife Wendy. After 6 months of married life and working long hours, weekends, and holidays, my wife suggested I look into a different line of work. So I then moved over to the food distribution side of the business. For 16 years I worked with restaurants, and became a vital part of their business.
In 2005, Crawfish Town USA was for sale. I then began the biggest selling job of my career. I had to convince my wife and the bank that I could revive the restaurant to its early days of grand success. They fell for it.
It's been 12 years now and the restaurant, certainly has been revived. Wendy and I couldn't ask for a better life. We hope for many more years of success here. It has become a very gratifying place to work. Ironically, we work long hours, weekends and holidays, but it all seems worth it when we see happy employees and customers.
Crawfish Town Fresh Market
2815 Grand Point Highway
Henderson, LA 70517
337.667.6148 EXT.2
Sunday: 9AM - 4PM
Monday – Thursday: 9AM - 6PM
Friday – Saturday: 9AM - 7PM;
Our Fresh Market is Located right next door to the restaurant. We have fresh seafood, meats, prepackaged local products and seasonings, and much more! Many of your Crawfish Town USA favorites are available in convenient pre-packaged portions, as well as hard-to-find high quality fish and shellfish.
Shrimp

Head On / Large & Small Peeled

Oysters

Live Crawfish

Washed and Graded - SEASONAL

Crawfish Tail Meat

Garfish

Tuna

Sushi-Grade

Crabmeat

Lump / Fingers / Jumbo / Claw

Live Crabs

Crawfish Burgers

4 per pack

Alligator Meat
Crab Burgers

4 per pack

Spinach Dip

Home made Tartar Sauce

Fresh Produce

Praline Sauce

Catfish

Whole / Steaks / Filets / Collarbone

Turtle Meat

Crawfish Burgers

4 per pack

Pork Chops
Boulettes: Dozen

Garfish / Crawfish / Shrimp / Catfish / Crab / Seafood

Stuffed Shrimp

6 per pack

Stuffed Crabs

3 per pack

Stuffed Catfish

Gumbo Crabs

Seafood Burgers

4 per pack

Bread Pudding

Rum Sauce

Beer and Wine

CTUSA Seasonings
Reserve your meal time with us
You've got questions...we've got answers! If you've got anything you'd like to say to us, or to make a suggestion so that we may better our service to you, please fill out the form below. We'll get back to you very shortly. Thanks for your interest in Crawfish Town USA!
Catering & Banquets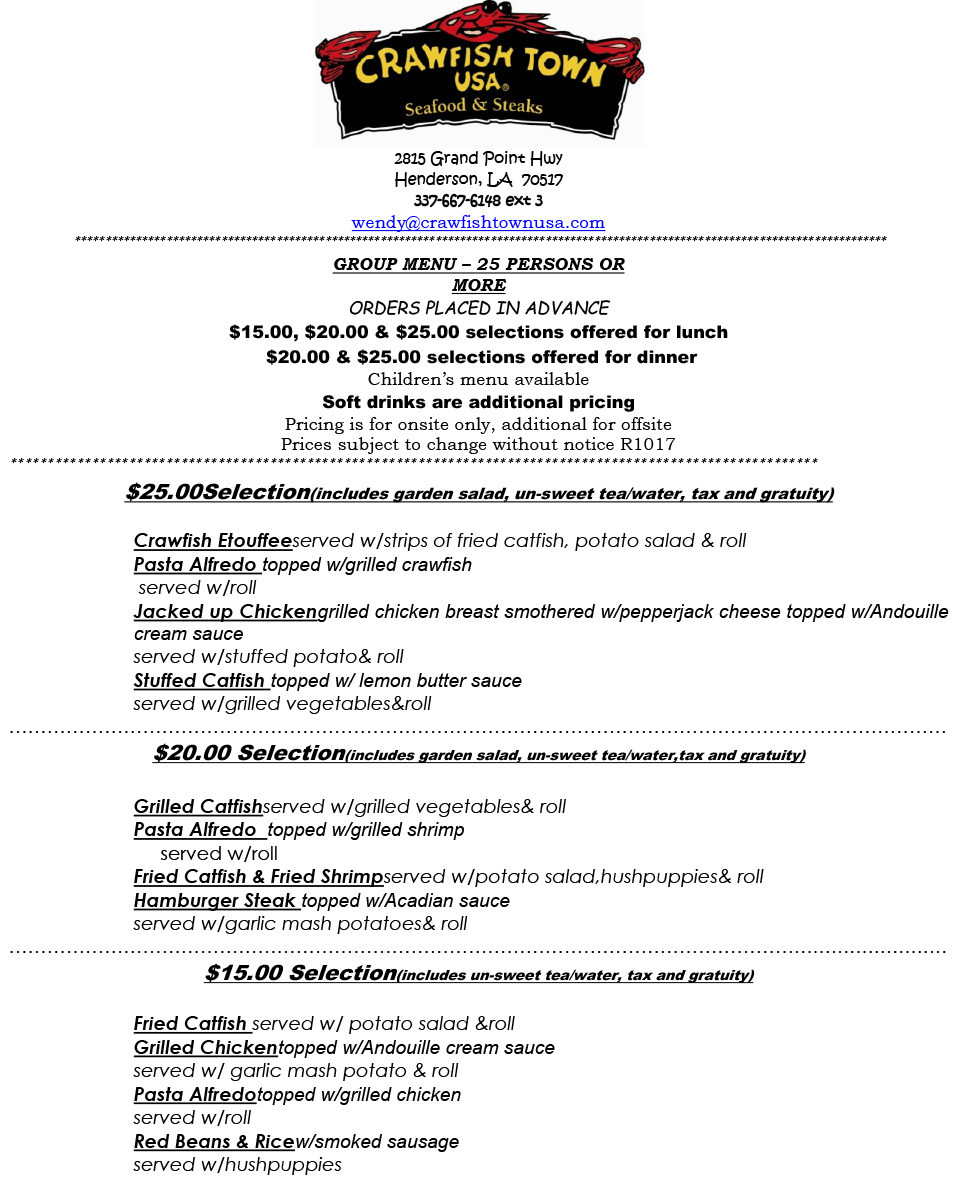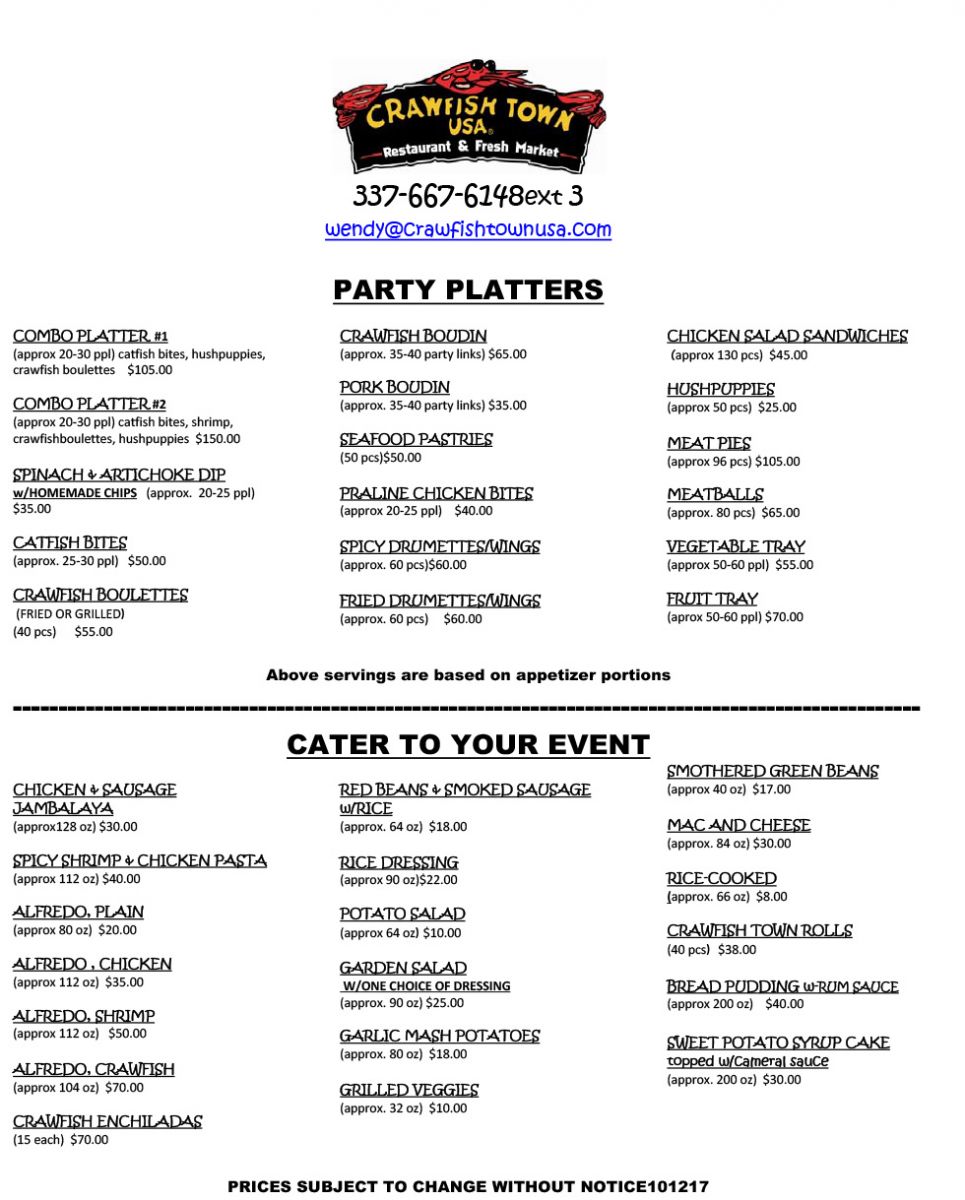 Contact Us
Crawfish Town USA
2815 Grand Point Highway
Henderson, LA 70517
Restaurant: 337.667.6148
Market: 337.667.6148-EXT. 2
Employment
This company is an equal opportunity employer.
This is a drug, smoke and alcohol free workplace!
Register for our eClub
Please register to participate in our eClub. We regularly offer specials and golf promotions to registered members. All information is held in confidence and will only be used to provide you specials and promotions.